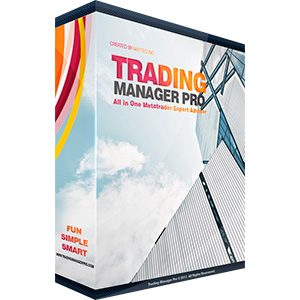 Trading Manager Pro
rating

0/10
Gain

-80.18%

Monthly

-7.64%

Drawdown

95.07%

Days in Live

938
We are not only a team of experienced Expert Advisor creators and developers but also dedicated Forex traders for many years. Today we present you a brand new kind of EA where you can choose your own strategies to better suit your trading style and achieve the profit goals you want. It has been strongly proven that Trading Manager Pro meets every trader needs
Statistics
Trading Manager Pro - Real 2
Statistics update
has been stopped
Information about Trading Manager Pro
Boost performance
Provides trading flexibility and advanced safety. Featuring auto trading and semi auto trading with lots of strategies to test and choose from while minimizing any chance of loss with its intelligent back-up strategy system.
Highly customizable
Trading with this tool is as enjoyable as playing a game on your devices plus you can always withdraw your profit.
Simplified workflow
It simplifies your trading experience, you can now sit back and enjoy your coffee and let our professional tool assist in managing your trades
Managing tools
Take advantage of Forex's most profitable systems, and empowers your trading robustly.
One-Click Trading
Attractive Interface
Semi and Full Automatic Trading
Powerful Back-Up Strategies
On Chart Setting
MTF Price Action and Indicator Filters
Panel Chart
Spend less time worrying about front-end and more focusing on your result and strategy plans.
Professional and easy-to-use app
A better way to present trading analysis
It takes few minutes to setup
Constant Updates
Our world nature is keep changing in a fast pace so does the Forex market
The tools allows you to updates your own strategies
Professional MT4 software &, apps
Setup and installations takes up to five
Trading Manager Pro on Action
Trading Manager PRO Update V1.10 (16th May 2017)
Add Live Spread Information on the Chart
Add MACD Indicator Function
Add signal notification with sound and icon on chart
Add signal alert information pop up
Add some money management function and strategy
Bug Fixes
Trading Manager PRO Update V2.0 (25th July 2017)
New setting with open orders limit/day
Each Indicator and price action signal can be filtered and read from multiple time-frames as various as trader's needs.
Pop up notification on/off choice
Trading Manager PRO Update V2.10 (13th February 2018)
Differentiate between first take profit and averaging take profit to potentially let the winners run as pips reaping will be maximized while in back up averaging mode EA will be able to close all trades cumulatively profit in shortest time period.
Benefits
Trading Manager Pro EA has the ability to imitate almost all EA's analysis and strategies both commercial and noncommercial EA's. Aside from our fully auto default setting, traders are highly flexible to set their own trading strategies with this application software.
We have included some of the well-known best commercial EAs, DeltonPRO EA, Sniper Suite EA and even Spartan Bolt EA setting for free which are available through purchasing our Platinum Package Plans.
Purchase includes:
STARTER. $599/year
1 Yr License
1 Live Account
1 Demo Account
Full Automatic - Default Setting
Installation Free Appointment
24/5 Support Service
STANDARD. $997/Lifetime
1 Live Account
1 Demo Account
Full Automatic - Default Setting
Installation Free Appointment
24/5 Support Service
PLATINUM. $1599/Lifetime
5 Live Accounts
2 Demo Accounts
Full Automatic - Default Setting
Installation Free Appointment
24/5 Support Service
2 Bonus Set-Files (Deltonpro / Sniper Suite / Spartan Bolt EA)
Free Lifetime Updates
PROFESSIONAL. $1299/Lifetime
3 Live Account
1 Demo Account
Full Automatic - Default Setting
Installation Free Appointment
24/5 Support Service
Refund policy
No description