MetaTrader 4 vs. MetaTrader 5: Comparing, Pros & Cons
No matter what your experience in trading is, you will definitely benefit from MetaTrader 4 or 5. It allows you to move to the skilled trading mode. However, what are the differences between MT4 and MT5, and what option is better?
Here, we suggest a forex trading platforms comparison that answers frequently asked questions and provides a general overview. Let it be your starting point in the journey toward success.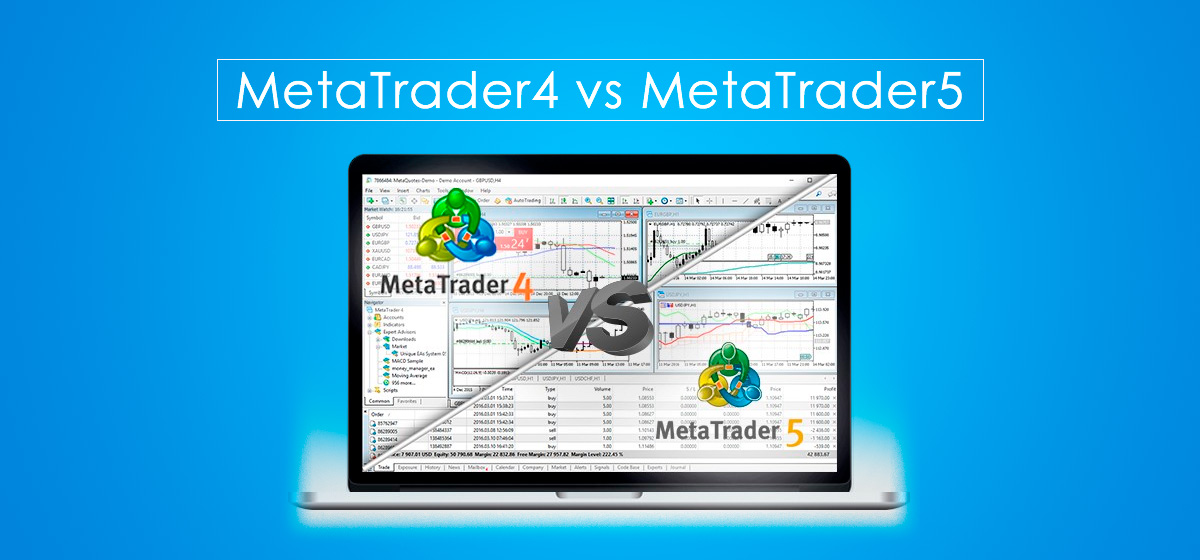 What are MT4 and MT5?
The trading always occurs through some platform. You may agree with the brokers' choice or work with MetaTrader 4 or 5. The latter provides the perfect tools and everything that you need to cope with this system (read more about Best Forex Robots)
Both options gained popularity and trust due to the number of profitable tools and their convenient use. Here, the trader can rely on the obtained data. In addition, one can utilize automated procedures and, thus, save precious time.
One of the differences between MetaTrader 4 and MetaTrader 5 is that they appeared at different times. However, it was not a case of evolutional continuation. Therefore, it is better to compare MT5 vs MT4 to delve into all the nuances of their work.
Not all other similar platforms can be competitive with them. Moreover, many other players in the market support them. Thus, let's continue our discussion and stop at the most valuable points.
Differences between MT4 and MT5
What is the difference between MetaTrader 4 and MetaTrader 5? The greatest overall one is the kinds of traders that operate there. MT4 was created for forex, which is why it is logical that it was featured for this direction.
As for the MT5, other types of trading are possible here. Not everyone will benefit from these additional options, but only those who work with multiple types of assets will find them useful.
Comparing MetaTrader 4 vs 5, we should further mention that only the first one could be integrated with the FIX API. And all the market players utilize the latter to share important data during trading, as well as confirmations of transactions.
This integration is related to the list of advantages:
Bigger access to financial data in a standardized way without any barriers.
An easy building of black-box strategies or your own algorithms.
Assistance for analyzing the current situation on the market.
Is MetaTrader 4 better than 5? It was created for simplicity. Here, beginners can skip complex time frame data and utilize only the resources they need. Generally, there are nine times. MT5 provides more than twice as much – 21. More seasoned traders find these data crucial and prefer to stay as informed as possible.
Another thing to mention while talking about Meta Trader 4 vs Meta Trader 5 is the number of order types:
MT4 provides four basic options. Generally, it is enough for following the chosen strategy and performing inside the suitable risk level.
There are two more options in MT5. This deepens flexibility according to price changes. However, only experienced users will understand how to utilize this information profitably.
Is MetaTrader 5 better than MetaTrader 4? They have their individual programming languages, and therefore, they differ in capabilities that you can select according to the situation. MT4 is considered an option that one can quickly install and launch, as well as set up for themselves and start to utilize at once.
This makes it preferable for novice users or for those who would like to follow the existing strategies without any novelties and inventions. At the same time, MT5 seems to be a more complicated version but with a huge range of possibilities that seasoned users can benefit from.
These are the main ideas for those who are thinking what's the difference between MT4 and MT5. However, there are also minor distinctions that are worth keeping in mind, namely:
Both of them provide hedging, but only in MT5 will you find netting, which is a key factor for many people who would like to take their risks under control.
In MT5, one will see wider functionality. For instance, there is an economic calendar, which is a helpful tool for tracking valuable data in time. Nevertheless, due to expanded offers, the platform turns out to be more sophisticated and requires more time to become familiar with.
Talking further about MetaTrader4 vs MetaTrader5, keep in mind that the latter provides a multithreaded tester, easy transfers, and a community chat. They are not important for everyone. Thus, think about your preferences while selecting the platform and follow your ideas.
In a nutshell, what's the difference between MetaTrader 4 and 5? Let's summarize our knowledge in brief lists and a table for your convenience.
MT4 Pros & Cons
Talking about benefits, we should mention the following:
Support of more than a thousand brokers.
It is fully compatible with Forex (learn more: How to Install and Run EA on MT4)
The excellent choice of indicators and tools for chart drawing.
Robotized tools and EA option ((learn more: Best Forex Robots for MT4)
The ability to work with it freely on a computer, laptop, or mobile phone.
Still, there are a few drawbacks, namely:
MT5 is richer in indicators.
Other than forex assets will not be so suitable.
Sometimes hard for understanding.
MT5 Pros & Cons
Proceeding with this option, there are such advantages:
The fullest range of indicators.
Advanced types of orders.
It is better for those who would like to try various assets.
Available on all modern devices and operating systems.
As for the disadvantages, we should mention:
There are not as many brokers as you may like.
Fewer robot and EA opportunities.
Novice users may find it challenging to cope with.
MetaTrader 4 vs. MetaTrader 5: Platform Comparison Table
| Differences | MT4 | MT5 |
| --- | --- | --- |
| Available markets | Forex, CFDS | Forex, CFDS, Futures, Stocks, Options |
| Order fill policy | Fill or Kill | Fill or Kill, Immediate or Cancel or Backwards |
| Language | MQL4 | MQL5 |
| Strategy tester | A single-thread | Multi-threaded |
| Order types | 4 | 6 |
| Technical indicators | 30 | 38 |
| Graphic objects | 31 | 44 |
| Timeframes | 9 | 21 |
| Hedging | Yes | Yes |
| Netting | No | Yes |
| Integration with the FIX API | Yes | No |
| Economic calendar | No | Yes |
| Chat MQL5 | No | Yes |
| Easy transfers | No | Yes |
MT5 vs. MT4: How to choose the better one for your trading?
After a discussion of the difference between MetaTrader 4 and 5, we can conclude that both of them serve their main aim. They are perfectly suitable for those who are interested in detailed analysis and finding their perfect ways in this area. The availability is similar, but the functionality differs a bit.
Is MetaTrader 4 better than MetaTrader 5? It is more preferable for experienced users as many brokers are available here. Many developers also select this option for automation, which leads to wider opportunities.
Still, talking about MetaTrader 5 vs 4, it provides in-depth analysis and more opportunities for non-forex assets. Here, you will see a lot of indicators, and the main task will be to use them properly.
Altogether, now that you are aware of what's the difference between MetaTrader 4 and MetaTrader 5, you are one step from the final decision.
Conclusion
Analysis and automation allow you to reach the next levels and develop your story of success. Therefore, do not hesitate to compare MetaTrader 4 vs MetaTrader 5 by yourself and utilize the solution that is perfect for you.