FXFLIGHTPRO Is An Innovative Expert Advisor Created by PROFESSIONAL TRADERS, Who Have Acted Hundreds of Times, Forex Robots Contain Many Market Leader Innovations.The Most Advanced Robot that REVOLUSIONIZE Forex Trading, NOW Comes As A Whole Trading Package!
Statistics
FXFlightPro AGGRESSIVE MODE - Real 1
Statistics update
has been stopped
FXFlightPro SAFE MODE - Real 2
Statistics update
has been stopped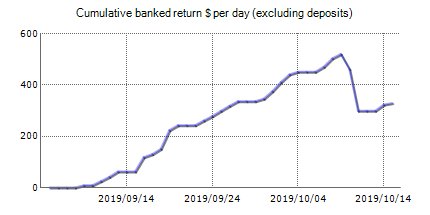 Information about FXFlightPro
FOR TRADER
Looking for and continuing to search for sure will not find a FOREX ROBOT with perfect profit and accuracy in this part of the world .Because if you still want to search, will only waste time. Start thinking smartly. Because it's all impossible.Here we provide a new breakthrough in trade. We have the latest system designed to facilitate traders or beginners.
FXFLIGHTPRO will help you get a stable profit and a small risk.
FOR BEGINNER
Traders who don't have Professional Capabilities can also generate profits 24 Hour Consistent with trading using a FXFLIGHTPRO that becomes your machine to generate Profit in your trading account
WHO SAYS IT, GENERATING CONSISTENT PROFITS IN TRADING IS IT DIFFICULT FOR BEGINNERS? FXFLIGHTPRO will trade for you and open all positions automatically and generate profit with good risk management for you.
FXFLIGHTPRO Has The Following Minimum Deposit Requirements:
Safe Mode Of $ 3000 ($ 300 For Micro Accounts And $ 30 For Cents)
Normal $ 2000 Mode ($ 200 For Micro Accounts And $ 20 For Cents)
Aggressive Mode Of $ 1000 ($ 100 For Micro Accounts And $ 10 For Cents)
FXFlightPro top feature
1. Stable profits every month
4. Control drawdown
2. Compatibility any mt4 broker
5. Free update
3. Support 24/7
6. Following trends not scalping
Purchase includes:
$175
4 LICENCE
Free Update
24/7 Support
$215
UNLIMITED
Free Update
24/7 Support
Refund Policy
Charges – All charges are refundable during the first 30 days from the date of purchase. Following 60 days from the date of purchase, nor refunds will be made. You shall contact ClickBank regarding any requests for refunds within 60 days of the date of purchase.