Information about Forex Trend Detector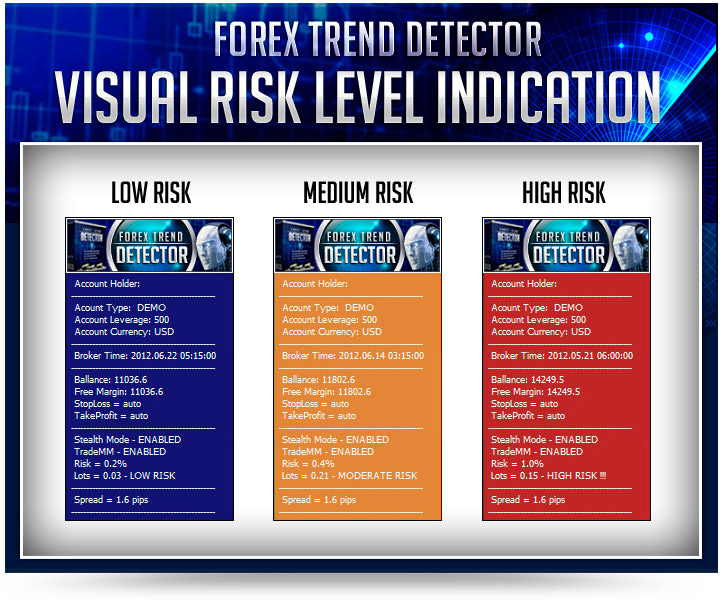 Forex Trend Detector is the exact tool you need to accelerate your journey to financial independence.
What makes Forex Trend Detector So Powerful?
We built Forex Trend Detector on a trading strategy that works.
We didn't use exotic or speculative techniques – instead we examined the strategies that professional fund managers…or what insiders call "The Smart Money".
Next we added a sophisticated drawdown compensating algorithm to protect your account by minimizing rapid drawdown allowing you to exit your trades with minimal loss.
The volatility breakout strategy combined with our conservative drawdown algorithm, results in the most powerful trading tool you'll ever use.
Forex Trend Detector was designed with the guidance of one of the industry's most respected Fund Managers with over 15 years of active trading experience.
The algorithm has been tested, reviewed, refined, and re-tested to insure that we have the most powerful and robust tool in the market.
The volatility breakout strategy isn't new. We're not gambling on an untested technique. Volatility breakout is the #1 technique for thousands of highly successful fund managers, institutional buyers, and investment houses.
The Smart Money uses volatility breakout because it's logical. The strategy just follows the money… or "follow the market impulse" resulting in reliable and consistent performance.
Forex Trend Detector is programmed to automatically adapt to the current market conditions.
We know that no two trading sessions are alike, and your trading strategy needs to adapt to the market. Forex Trend Detector uses a cutting-edge polynomial algorithm that adjust system parameters in real-time.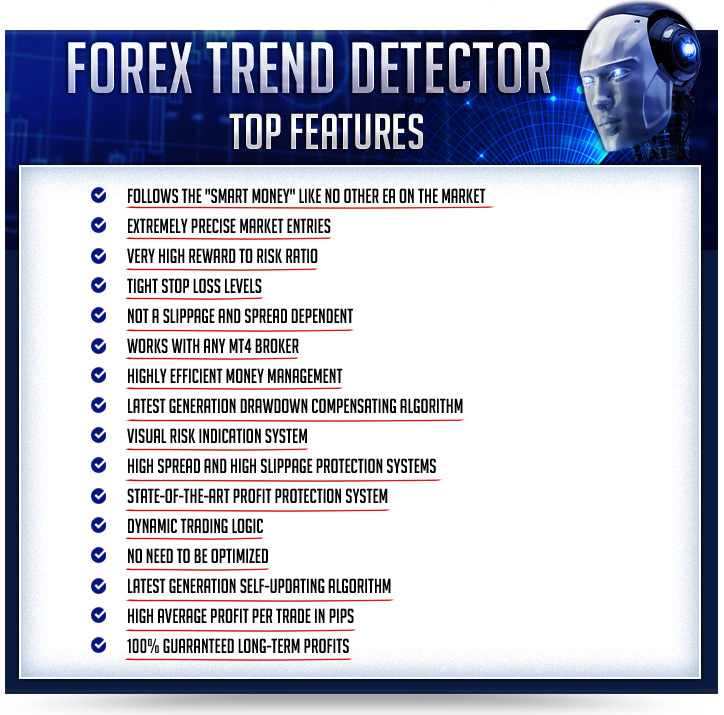 What you will get
Instant Download of the Forex Trend Detector Software
Forex Trend Detector is a secure downloadable application that you'll get access to immediately after purchase. The software is compatible with the Windows and tested to work bug-free every time you fire it up.
Unconditional 60-Day Money Back Guarantee
We're happy to assume all of the risk. Go ahead and get the Forex Trend Detector and try it out. If for any reason you're not satisfied, we will return your money. No questions asked.
Private Members Area Access
We've built a private online members area to keep you updated on the latest improvements to Forex Trend Detector. You'll also get quick access to our support team and software updates. Our goal is to give you a complete Forex trading system that pays for itself within a single trading session.
Rapid Response Support - 24/7
Our team of specialists is here to provide quick assistance and resolution to any problems. You can get access via the free members' area, by email, or our by filling out our contact form. Please, contact us if you have any problems or questions.
1 Live and 2 Demo Accounts
You can use the Forex Trend Detector with 1 live account and 2 demo accounts at the same time.
Lifetime Updates
We'll send you updates and new versions free of charge.
Detailed User Guide
Complete instructions on how to install and configure the Forex Trend Detector.
Emotion-Free Trading
Last, but not least, easy, emotion-free profitable automated trading!
Purchase includes:
Forex Trend Detector - $297 $189.60
1 Real Account
2 Demo Accounts
EURUSD + GBPUSD Currency Pair
60-Day Unconditional Money-Back Guarantee
Coupon code with 20% OFF: 20AP2020
The coupon will expire at the end of April!
Refund policy
We invite you to give Forex Trend Detector a try for 60 days. Evaluate its performance and see if it lives up to the high expectations we've set for it. We are sure you'll quickly see why we are so enthusiastic about Forex Trend Detector.
However if you aren't excited or satisfied with Forex Trend Detector, send us an email and we will immediately and respectfully refund your purchase.