For the past 10 years I've created some incredible pieces of trading strategy. But one of my most successful and popular with the wealthy clients was and is REV Trader PRO.
Statistics
REV Trader PRO - Real. Suspicion of a technical manipulation of results
Statistics update
has been stopped
Information about REV Trader PRO
REV Trader PRO trades the Forex markets. It's a completely automated system. And in a few minutes I'll tell you exactly why it's one of my most favorite and profitable investments in the world.
And today I'm going to give you full access to the software, the complete software with no limitations exactly as I have run it for others and myself.
I was never really an "employee" as I always retained complete control of my software; the firm I worked for never had rights over it. So recently, when I finally left the trading firm, REV Trader PRO became unavailable to ALL clients.
Until now… because I'm making it available to YOU.
What if I don't know anything about trading or computers?
You don't need to be a trader or a computer enthusiast to run REV Trader PRO on your Forex trading account. I've simplified the whole process because the clients I have worked with in the past were quite inexperienced.
It's simple, in fact, your Forex broker, provides a platform called Meta Trader 4. It's easy to install, they provide software that does it for you.
And even easier, my REV Trader PRO, comes with an installer that installs and sets up the software automatically onto the Meta Trader 4 platform, you really don't need to do much.
Here is why REV Trader Pro works so well:
The market is in a constant state of war. Traders are fighting to push the market up and down. It's a state of constant volatility.
This is great news for us, because if we time it right, we can profit on these movements.
I designed REV trader PRO to monitor the up and down patterns and detect highs and lows. With this data the software makes entry on the reversal of the market movement.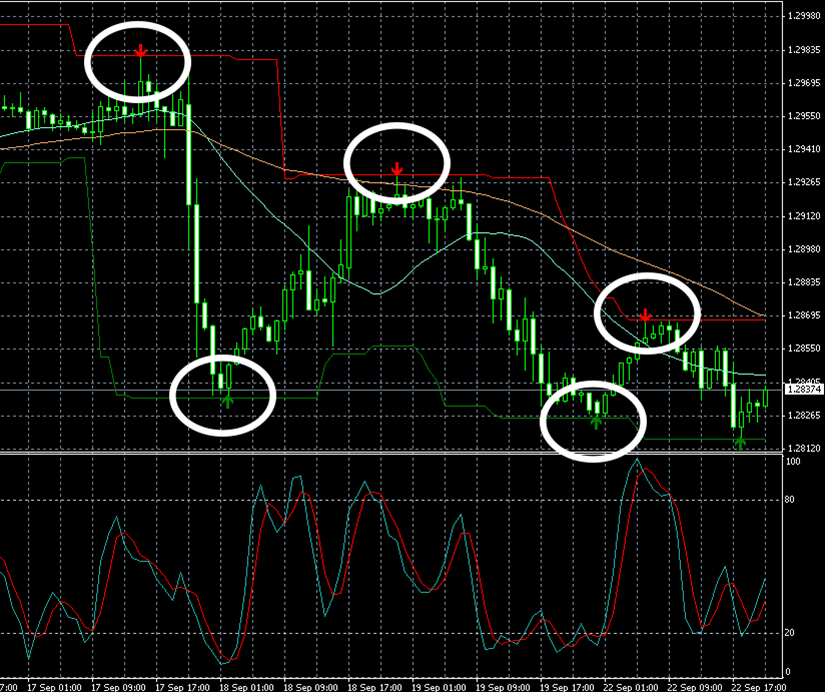 Here's the thing about trading, there can and will be false trade signals. This is what separates the winners from the losers. From my years of experience trading, I've learned the patterns and have created filters to help avoid false signals.
These filters are built into REV Trader PRO. In fact, there's a bunch of exciting features, let's take a moment to go over them.
REV Trader PRO doesn't use any deceptive trading tactics and what I mean by that is no martingale and no grid. These are just dangerous methods to make accounts continue to grow in the short term, but end up destroying your account.
The most powerful method to avoid bad trade signals:
I've had my fair share of trainees under me over the years. These guys are all the same. They have a big head and think they are going to make millions, but don't know the first thing about making safe, consistent, long term profit.
It's the same story over and over. Go for the quick win, eventually they lose it all in one big trade.
I have a very powerful method to confirm validity of trades that most trainees would never follow and even most Forex strategies I see today do not follow. And you'd be surprised because it makes complete logical sense.
I made certain this feature is in REV Trader PRO - it adds another level of safety to your trading.
So what exactly is this "method?" It's unbelievably simple, but don't let that fool you.
REV Trader PRO runs on the 1 hour timeframe. The entire strategy, analysis, etc. occurs on that chart. Once a signal of BUY or SELL has been acquired based on the proper patterns identified and all systems have done their checks, REV Trader PRO will do one final confirmation.
It switches internally to the Daily chart to do one last analysis to track the direction of the trend. If the trend does not match with the signal acquired on the 1 hour timeframe, then it will not make the trade.
Here's what I mean: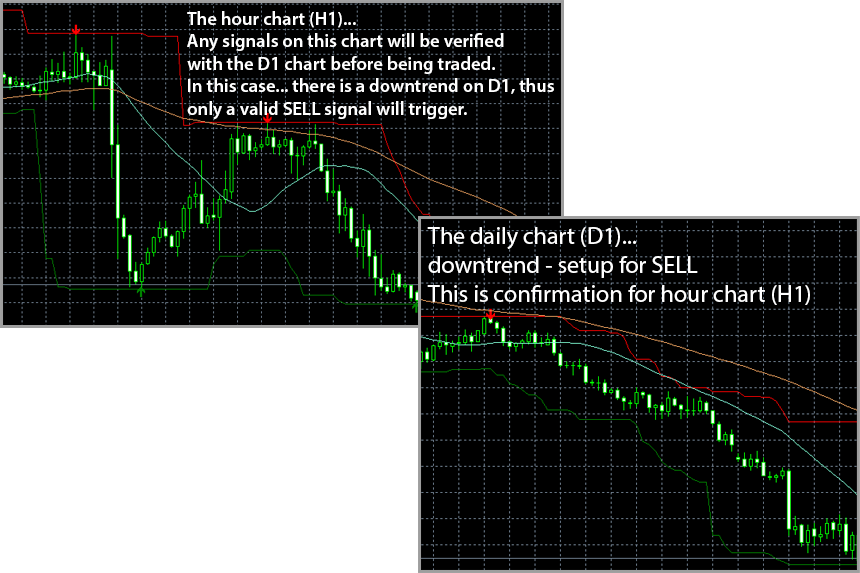 This is a very important verification, because the Daily chart cuts out the short term clutter of the market analysis and gives us a clearer picture of where the market is going.
Essentially, if the trade signal in the hour chart happens to go against us, but the daily chart is in favor of the trade, there is a high probability it can and will recover in the profitable direction.Therefore, it gives us an additional layer of protection when entering a trade.
Some features:
REV Trader PRO does not scalp. Scalping is great, but it comes with risk of losing money from commission, spread, slippage, and broker sensitivities.
REV Trader PRO loves to ride the waves of the market up and down with its unique style of trading.
REV Trader PROoperates successfully on 4 currency pairs: AUD/USD, GBP/USD, EUR/USD, AND NZD/USD and can be optimized for other pairs also!
REV Trader PRO offers a powerful set of controls to optimize and adjust settings. But don't worry, default settings are excellent, I use them on my own account. There is no need to make any adjustments.
Purchase includes:
Full Lifetime License to the REV Trader PRO software. No trade copying. The exact software I personally have used on dozens of multi-million dollar accounts.
Free updates and strategy improvements. I enjoy perfecting my strategy and making it more powerful and profitable. There's always room for improvement. That's why any changes to the strategy or improvements to the software itself are provided at no cost to you.
The best support you will ever experience. You are investing in your future. You need someone to guide you and keep you on the right track. Someone you can trust. That's why not only will you have 24 hour access to me via E-mail support, but I am going to give you my personal Skype username to reach me if you have any important issues.
Everything is provided that you need to get started. Doesn't matter if you are new to Forex or a veteran, everything is included to get you setup and running quick.
Additional trading pairs with proper settings for each pair. Don't worry if that doesn't make sense, it's plug and play, and ready to go!
Refund policy
Sign up today, become a member of my trading group and gain full access to myself and REV Trader PRO. If at any time within 2 months, that is 60 days, for any reason, you are unsatisfied, unable to continue using my software, or for whatever reason at all, just let me know, and I'll refund you in full.
I will return every dollar and cent to you, no questions asked.This is FACT. I honor every request for any reason.