Information about Forex Hunter EA
Forex Hunter EA – is a new generation grid forex robot that works using the principle "buy cheap, sell high". This is achieved by opening positions using signals of built-in indicators and, in most cases, this allows to get very accurate entries . Unfortunately, on this highly liquid market, that is FOREX, it does not always guarantee that the price will go directly to the desired direction. If the entry happens to be not accurate enough then Forex Hunter EA controls open positions using very thought-out martingale strategy. Open orders are grouped into baskets, which are automatically closed when the target ( the level of take-profit ) is reached . This strategy does not use any short-term trading or scalping .
Orders are added into the so-called basket by opening market orders (in some cases – to handle with price gaps – the Adviser uses Buy-Stop/Sell-Stop orders). Using the most advanced methods to control grid geometry provides an almost perfect geometry of open basket , regardless of current market conditions (slippage, increased spreads , etc.). All that allows our robot to trade successfully in any market conditions, even during really high-impact news.
Forex Hunter EA has real trading history and monitoring which demonstrates the performance of the advisor for the last year.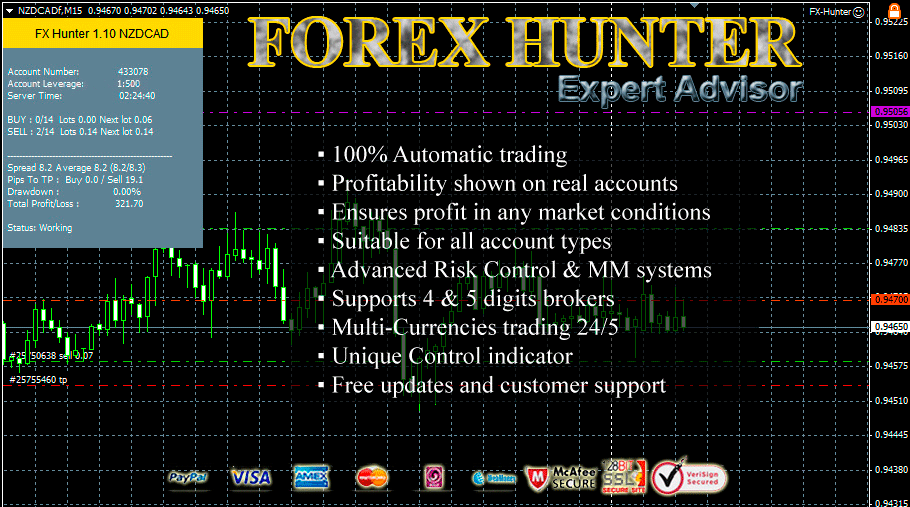 Trading Strategy
Forex Hunter EA opens several orders of various sizes in the same direction. A group of such orders is called a basket . Individual orders in the basket are called levels. If the price moves against the basket , Forex Hunter EA adds new levels to the cart. All orders in the cart have the same Take profit level , which changes when a new level is added. When the price reaches a level of trade target (Take profit) , all orders in the cart close simultaneously. First order is opened only under the appropriate market conditions – Forex Hunter EA doesn't present in the market constantly, but always waits for the right moment to enter the market.
New levels of the basket can be opened either with increased or with the same volume because of flexible multiplier settings . A volume of the current Order is calculated from the base lot by applying the lot multiplier specified in the settings for this level .
Typically Forex Hunter EA trades only in one direction. However, sometimes there may be situations when a trade is conducted in both directions. If your broker prohibits hedging, allowing only to buy or sell at the same time, then you can make Forex Hunter EA work only in one direction (set a flag OneWayTradesOnly in the TRUE position – see description of Forex Hunter EA settings).
Forex Hunter EA has several options for risk management that gives you an opportunity to protect your account and to regulate trading risks according to your personal style and preferences. First of all , we don`t recommend using Forex Hunter EA without setting a limit of maximum drawdown. A variable MaxMarginUsagePct (see the section Settings of Forex Hunter EA`s manual) allows you to specify the maximum drawdown in % of the deposit , above that the opening of new levels is prohibited.
Also Forex Hunter EA calculates the remaining amount of available funds before opening a new order in the basket. If there are insufficient funds to open a new order then the advisor won`t open them.
The unique control indicator that comes with Forex Hunter EA provides additional options for risk management, that is especially important for multi-currency trading. For example, function Currency Block significantly reduces tradig risk by prohibiting trading wit
FAQ
What broker is better to choose?
Forex Hunter EA is able to provide a stable trading on most brokers. The exception is NFA-regulated brokers because they prohibit long and short trades at the same time. We recommend to choose a broker with high leverage (1:300 or higher) to reduce a margin load of your deposit.
Recommended brokers:
Alpari, Armada Markets, Roboforex, IC Markets
IMPORTANT: If your deposit is less than $5000, you should open a cent account that is not offered by all brokers. Below you can see some brokers with cent accounts.
Roboforex, Forex4you, TradeFort.
However, typical ECN accounts are much better for working of Forex Hunter EA, because trading conditions on Cent-accounts are much worse.
What is necessary to change in the settings for my deposit and broker?
Optimal presets are already imported in .set files for every currency pair. We don`t recommend to change anything in .set files.
Should I keep my PC running all the time?
To ensure correct operation of Forex Hunter EA, your computer must be turned on constantly and be connected to Internet from the market opening on Monday in the morning till the closing on Friday in the evening. During the weekend your PC can be switched off but it is not obligatory. In order not to keep the computer running all the time, we recommend you to use one of the numerous VPS (Virtual Private Server) services, that gives you an opportunity to locate your advisor on a remote server.
The speed of testing and optimization is very slow. What to do?
Forex Hunter EA is protected by mqllock. This causes a reduction of testing and optimization.
Purchase includes:
Forex Hunter EA`s license is valid only for one trading account. You may change your account number once a month.
Refund policy
If you are not satisfied with our Advisor, we guarantee a 100% refund within 30 days after payment date. It is available only for a full license.