FX Builder - EA Constructor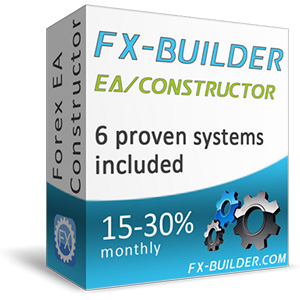 FX Builder - EA Constructor
rating

1/10
NFA
Gain

n/a

Monthly

n/a

Drawdown

n/a

Days in Live

n/a
FX-Builder constructor has big potential. You can create a lot of strategies with different styles of trading like: scalpers, intraday, grid, with or without martingale, day or night, with or without indicators etc. This could help to diversify your trading risks.
Why FX-Builder is better than other Advisors?
We offer great advisors with different logics which recommended themselves as successfully ones on real trading since 2011 year and have backtests from 1999. But the most important is that all these advisors were created with the help of our very powerful tool FX-Builder, which comes in package with all systems.
What is so special in our Strategies Constructor?
Unlike any of our analogues we provide 6 already done trading systems which were created by means of our strategies constructor. That proves that our constructor is working and effective! The number of possible combination of all parameters is practically unlimited, and the main privilege there is no need to have specializing knowledge or skills in programming sphere!
How we managed to create such Tool as FX-Builder?
It's all about our great experience in developments of unique systems. We have made a long way from coding customized trading systems for private clients to the work in the major company where were created really worthwhile advisors for management of big accounts. In our product, FX-Builder, we have realized all our experience and put in it the best strategies which can be set easily and combined with filters of all kinds, different Money Management, Time Management, Stop Level Management, trailing stops and many many others.
Make money with us by Selling your developments!
We are glad to give our clients the opportunity not just to create trading system and earn money on Forex market but also to sell their own developments which were made with the help of FX-Builder in our store. It is very easy to do.
This is not the final version. New upgrades are coming soon!
We do not think that really thorough and final version of constructor can be done for the short period of time. We plan to improve and widen our product abilities for a long time, considering clients wishes and market changing. That is why if you miss something in FX-Builder just let us know and probably in the nearest updating we will add this feature. Of course all upgrades and improvements will be absolutely free to all clients that have bought our product once.
FX-Builder is a Trading Strategies Constructor
Make your own unique Forex strategy just clicking parameters
Special skills or programming knowledge are not required!
Use settings that have already traded on real accounts successfully
Discover Great Opportunities with Us
Get 6 trading systems that already work on real accounts
Make your own EA, modify or combine existing systems
Sell in our Store settings that you have made
Order your own modification of FX-Builder
Make Your Own Unique Trading System
Over 200 intuitively understandable settings
More than 1 000 000 000 000 000 of possible combinations!!!
All parameters are fully compatible with each other
Absolutely optimized backtesting speed
Share Your Developments with Others
Simply share your settings just saving file with parameters
Improve and develop your trading system jointly with friends
Discuss your and other developments on your favorite forums
However you can make better trading strategies using our product!
We have made really good settings for FX-Builder but our Constructor potential is far wider and varied than this. You can create a lot of strategies with different styles of trading like: scalpers, intraday, grid, with or without martingale, day or night, with or without indicators etc. This will help to diversify your trading risks and besides you can sell your settings in our store.
Purchase includes:
1 license for any account
Changing account online unlimited number of times
Free lifetime updates and support 24/7
Detailed User Manual
Refund Policy
Our refund policy is "30 days money back guarantee". If you are not satisfied, please describe your good reason and we will return money back without any problems, but your FX-Builder copy will become unusable.