Information about Forex Cyborg
Forex Cyborg can be traded on multiple currency pairs with the default settings on any size trading account with any leverage. You only need to adjust the lot size or risk per trade. You do not need to risk a lot to make huge amounts with it as it trades frequently and can grow even the smallest trading accounts to great amounts in quick time. Forex Cyborg is suitable for both novice & advanced forex traders with easy to follow setup instructions included, full support, lifetime updates & a money back guarantee.
Tick Testing
Real tick data used for testing giving the most accurate results possible. 99% modelling quality.
Real Spreads
Real variable spreads used for testing helps to make sure that Forex Cyborg is not spread dependant.
Real Slippage
Real slippage simulated in tests to anticipate various real trading conditions.
Trading Commission
Trade Commissions included in tests to ensure they do not eat into profits.
Features
Forex Cyborg is a very complex and innovative forex trading robot that will enter trades, place the stop loss & take profit. It is fully automated & requires no user input. It is ready to use straight out the box with the default settings. Full support is included to ensure that you have Forex Cyborg running correctly & that it is making you profit. Free setup on your VPS if you have one or via Team Viewer if required.
Fully Automated
There is no user input required. Set & forget trading solution.
MetaTrader 4
Ready to use with default settings on your MetaTrader 4 trading platform with any broker.
Full Support
24/7 dedicated support.
Process
There are only 3 simple steps to follow in order to start making a lot of money from fully automated trading with Forex Cyborg.
Download Forex Cyborg
Once you have made your purchase you will receive an instant download link.
Install on MetaTrader 4
Follow the simple instructions to setup Forex Cyborg on your MetaTrader 4 trading platform.
Collect Profits
Sit back & enjoy the frequent & profitable trading of Forex Cyborg.
Specifications
Forex Cyborg incorporates a combination of unique features including neural networks and deep learning which help to ensure that it has such an impressive win rate and can dynamically adapt to market conditions. All trading conditions are built within the very long & complex Forex Cyborg trading algorithm.
Money Management
Forex Cyborg uses built in sensible money management ensuring that one loss does not wipe out all of your gains. There is no martingale, no hedging & no arbitrage. The revolutionary new "currency correlation risk-manager" will help you to manage your risk. Two different preset-types are build-in in the EA. You can choose between the "Normal" and the "Conservative"-set.
Trading Hours
Forex Cyborg trades from 18:30-23:30 GMT depending on the chosen currency pair.
Trading Account
There is no minimum trading account size or leverage required. You can use any broker & trading account type. Forex Cyborg is NOT Broker Dependant.
Master Account
Forex Cyborg is an MT4 expert advisor officially recommended by FXPIG.
Packages
Forex Cyborg is not cheap for a reason - it is top quality and the best forex robot that money can buy. It is targetted towards professional traders who understand that forex trading is a business and want a long term hands free investment with great returns and minimal risk. Many hours of coding complex algorithms has been dedicated to developing Forex Cyborg. The price tag can be made back in no time with it's frequent trading and high win rate. There are no additional or ongoing costs.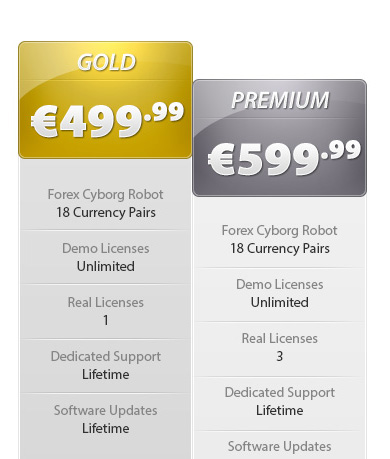 *7 Currency Pairs = AUDCAD, EURCAD, EURGBP, EURAUD, EURUSD, GBPUSD, USDCHF
*14 Currency Pairs = AUDCAD, AUDCHF, AUDUSD, CADCHF, EURAUD, EURCAD, EURCHF, EURGBP, EURUSD, GBPAUD, GBPCAD, GBPUSD, USDCAD, USDCHF
Purchase includes:
Forex Cyborg Robot
This is an expert advisor file (forex robot) for the MetaTrader 4 trading platform.
Simple Instructions
Easy to follow instructions to setup Forex Cyborg in minutes.
Refund policy
30 days money back guarantee if you do not want to keep Forex Cyborg activated.