The weird trading pattern that will help you double or even quadruple your trading account
The funny thing about trading – just like people, currency pairs have personalities. I know a little strange, stick with me for a moment.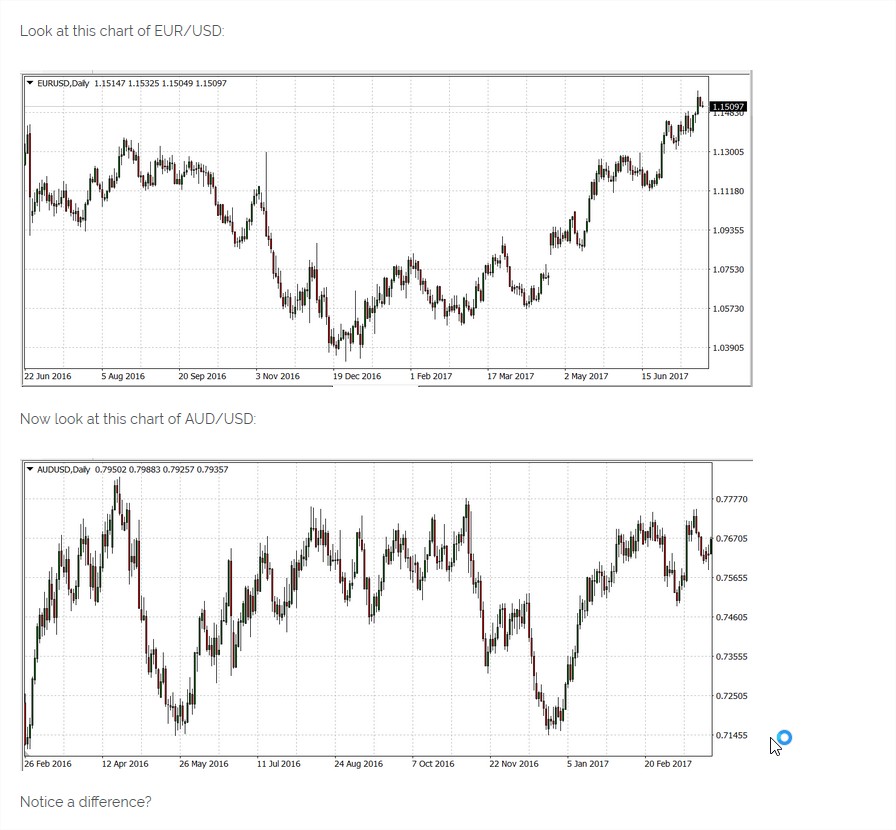 Notice a difference?
The EUR/USD chart is more erratic than the AUD/USD chart. In fact, the AUD/USD chart is consistently volatile within a sideways range for extended periods of time.
Which one do you think is easier to trade based on what you see? AUD/USD, right?
Because it's more predictable and consistent and the pattern is generally done over and over. So why would most people trade EUR/USD and ignore AUD/USD?
It's beyond me.
And AUD/USD isn't the only one, there's other pairs too, for example USD/CHF.
The pattern is important, but what's more important is when we enter those trades and how we manage them
Our team has spent years watching, learning, adapting, and trading on these unique patterns and we built out a formula based on this research.
We've taken all this research and put together a plan that helps us identify where to enter trades and more importantly how to manage these trades after they are entered.
And from that plan, here is an example of trades we've taken: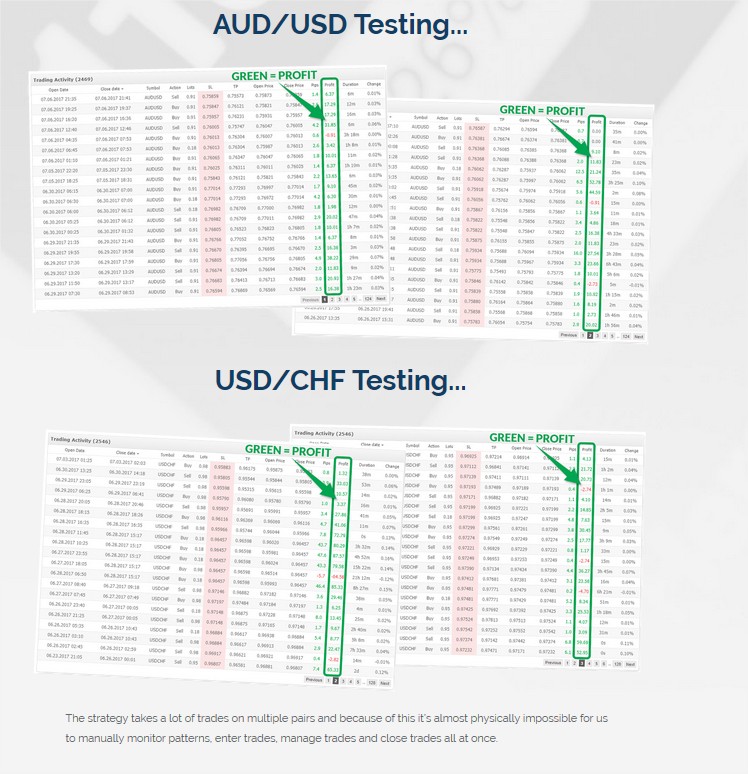 How we fixed the problem
What we did is the only thing we could do – we automated the entire strategy.
We took our whole trading strategy, from top to bottom, and turned it into a complete automated trading system.
If you aren't familiar with what that means, it means we built the strategy into a software that runs on your Forex broker and runs in the background looking for trades, opening trades, and managing the trades all on auto-pilot.

This pattern of trading and taking profit successfully goes back years, so it's not going to just stop working – here's why
Through exhaustive testing and analysis, we've mastered every aspect of the Fluid Trader strategy.
In fact, take a look at years of testing here and you can see truly what Fluid Trader is capable of.
Also, note the smooth growth curves, it's impressive the results you can achieve running this simple software.
Fluid Trader runs on both AUD/USD and USD/CHF.
How To Trade Fluid Trader On Your Own Account
Fortunately, you don't need anything special to trade with Fluid Trader. You don't need a large account or a special computer system.
In fact, we've designed it so you have complete control. You can trade with a small account (hundreds of dollars) or a large account (thousands of dollars), and you can adjust the risk setting for lower or higher risk.
All dependent on your preferential goals and risk appetite.
To join the group and get your copy of Fluid Trader, you will need a membership to our website.
When you join you'll get full access for 1 year to the Fluid Trader software, which can be used on any account of your choice and be switched at any time.
That also includes free updates, responsive technical support, detailed instructions, and recommendations.
You can join now for only $347 for a full year. That averages out to about $29 per month. Which is ridiculously affordable for the kind of profits you can make trading Fluid Trader, even with a small account.
And just in case you are skeptical whether this will work for you or not, your investment in Fluid Trader is protected entirely by my 30 day iron clad no questions asked money back guarantee.
Purchase includes:
Fluid Trader system
Members access
Full support
Updates
Refund policy
When you sign up for Fluid Trader, test it out, however you please. You can try it on a DEMO account, a LIVE account, and switch it anytime you want.
If for any reason, you are unhappy with the system, at any time within 30 days, just send me an e-mail and I'll refund you every single dollar. You can request a refund for any reason, this is an unconditional money back guarantee. Even if you make the request at 29 days on the 23rd hour of the 59th minute, I will still refund you.