full review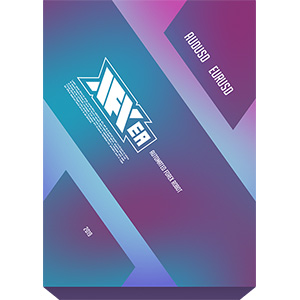 XFXea Review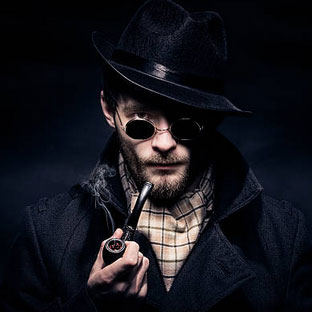 Here is yet another Forex robot review on ForexStore. Today we'll analyze the XFXea robot which has been showing high results for more than two years already. It is one of the EAs that does not use Martingale and usually has no long unprofitable periods, as the developer says.
So, let's dive into the review to see the real performance of this Forex robot.
Basic information about XFXea:
Price

$260

Currency pair

AUDUSD, EURUSD

Number of real licenses

1 life-time license

Support

24/7

Refund

30 days money-back guarantee
Conditions for trading:
Minimal deposit amount

$110

Minimal leverage

1:100

Time frame

H1

Terminal

MT4 and MT5

Broker

Any
Live performance of XFXea taken from Myfxbook
XFXEA has real trading statistics provided by third party company Myfxbook. The EA is able to trade on two currency pairs and that's what we see on the live trading account of the robot on Myfxbook. There is a bit sharp movement on the trading graph but as we can see the robot was able to keep the upward movement despite some losses. In the following parts of the review, we'll look closely at this graph to analyze EA's performance.
XFXea AUDUSD backtest, Risk 100%. 2014 -2019 backtesting period.

XFXea AUDUSD backtest, Risk 35%. 2014 -2019 backtesting period.

XFXea EURUSD backtest, Risk 100%. 2014 – 2019 backtesting period.

XFXea EURUSD backtest, Risk 100%. 2014 – 2019 backtesting period.

XFXEA has got 4 backtests available on the official website. There are two backtests for each currency pair that the EA is able to work on. All the backtests are completed on the 5 years testing period: from 2014 to 2019. The developer shows different variants of trading on XFXEA. There is one backtest for each currency pair that made with 35% of the risk and one backtest for each pair with 100% of the risk so that we can see that the EA can trade in an aggressive mode as profitably as in safe mode.
All the backtests were made on the basic MT4 backtester on the 1H timeframe with 90% accuracy which is okay for this EA because it does not use scalping strategy and doesn't need the precise every tick data for its proper work. As we can see from the statistics the EA showed itself very stable and constant.
Disclaimer
*The backtests are taken from the developers' website
*The subsequent analysis of the adviser is based on live analytics from the Myfxbook website. We'll go through the pluses and minuses of the trading system as well as the profit and drawdown analysis.
Drawdown and profitability
As it's been mentioned before, XFXea has got only one real trading account on Myfxbook that works on two available for this robot currency pairs at the same – AUDUSD and EURUSD.
The XFXea on its official account has been able to collect 1884.88% of profit during its trading time which started in September 2018. As we can see from the screenshot below the EA struggled a bit in December - February 2019 having some fixed drawdowns that have been covered for a longer period than usual. But the fact that the EA has a straight upward movement and shows high profits gives me a reason to say that XFXea potentially has a chance to become one of the top-ranked EAs on ForexStore.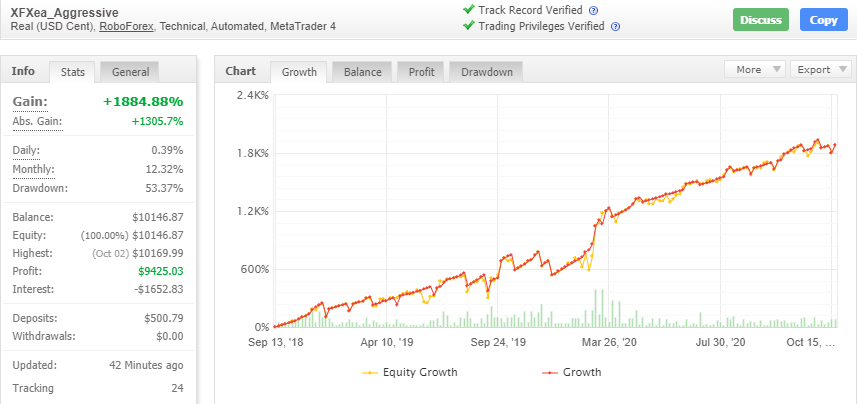 The EA's maximum floating drawdown reached 53.37% of the deposit and the average monthly profit is 12.32%. The highest fixed drawdown that Myfxbook was able to trace was 39.65% of the deposit which you can see on the graph screenshot below.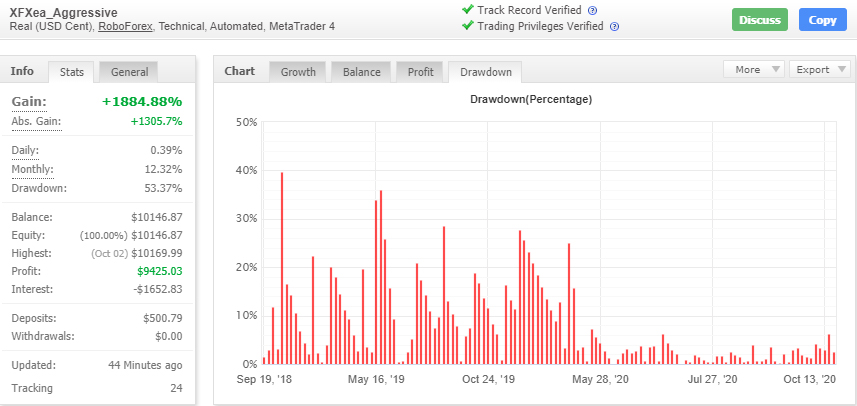 There are real trading statistics of XFX EA available since September 2018 which gives us 25 months of trading to analyze. The average profit to drawdown ratio of XFXea according to the gain and drawdown levels on Myfxbook statistics is approximately 1:0.71 if relying on the 53.37% maximum drawdown number.
The system obviously does not use compound interest in its trading as we can see that the starting lot size hasn't changed during more than two years of trading period (look at the screenshots below).


Trading
The developer claims that "XFXea calculates an entry point by evaluating in a special way a certain number of bars and then forms an important range. Based on this range, it determines how and when to start trading".
It is a kind of basic information but there is no detailed information about the process and the algorithm of the calculation. Still, as we can see the algorithm works pretty well since the EA shows high-profit results.
The developer also claims that XFXea "is aimed at bringing regular profits regardless of the market situation. Thanks to special calculations and transaction algorithms, we were able to ensure that the system practically doesn't have loss periods. Even if XFXea closes some trades at a loss, very soon after that the EA quickly covers the loss by using a special algorithm. And most importantly, all this is done without using the principle of Martingale".
According to this, it becomes clearer why the trading graph looks a bit sharp. The EA is programmed in such a way and so it is kind of a part of the trading strategy of the XFXea. Or, in other words, all the small downward movements are covered which is a part of the system's logic.
Analyzing XFXea's trading graphs I did not find the situations or trades that would show a sign of the Martingale strategy. The trades are opened and closed differently from time to time. Sometimes in the trading, there could happen two or three-trades grids but there are no signs of Martingale for sure (check out the screenshot below).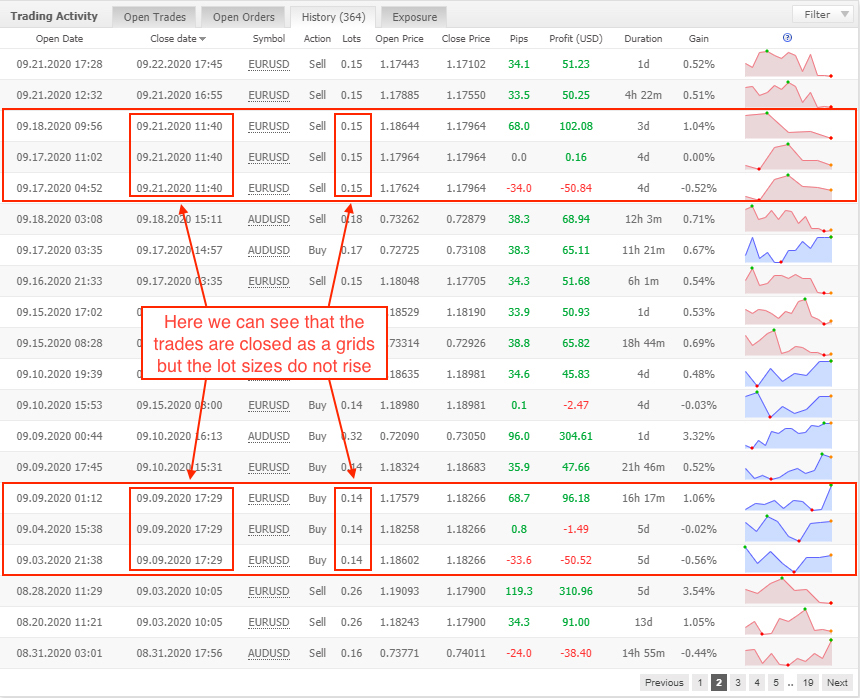 During its trading, XFXea has managed to complete 193 trades on AUDUSD currency pair and 169 trades on EURUSD currency pair which in total is 362 trades. It gives me a reason to confirm that the EA completes the trades on average once in two days. And it confirms another developer's claim that XFXea trades regularly without long "silent" periods.
The trading results also confirm that the system manages to choose an appropriate entry point as we see that the percent of the winning orders of XFXea is 68% and 72% on AUDUSD and EURUSD respectively while there are only 32% and 28% of losing trades on the account (look on the screenshot below).

The average time that XFXea takes for trades to close is in the range of a few minutes to a bit more than 3 days. There are very few trades that's been closed in a longer period which you can see on the screenshot below.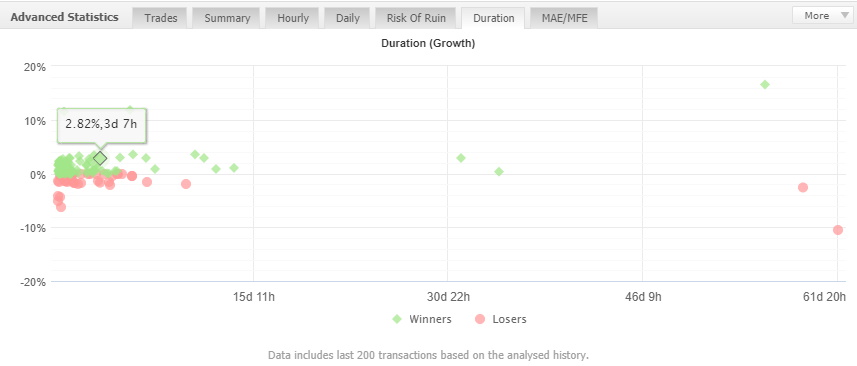 Conclusion
So, XFXea trades on two currency pairs – AUDUSD and EURUSD. It has got one account with trading statistics on Myfxbook and 4 backtests (two tests per each currency pair). The XFXea has got 1884.88% of profit during 25 months of trading, having a bit more than 53% of floating drawdown. The profit to drawdown ratio, in this case, is 1:0.71 which is pretty high.
The EA uses neither compound interest nor the Martingale in its trading. At the same time sometimes, it uses grids but the actual trading algorithm of XFXea is not clear.
The EA has a special algorithm for calculating the entry point which is one of the main features of this EA. The results of the trading give me a reason to admit that this algorithm works pretty well.
The XFXea has got a high-profit factor of 1.79, having the highest of 72% of winning trades and the lowest of 28% of losing trades during its trading. The total number of trades made by the EA is 362 which gives almost one closed trade per 2 days during more than two years of trading. The XFXea trades in a short period of time. Usually, the trades do not stay in the market for longer than 4 days.
Final marks
So let's finish this review by giving appropriate assessments to the XFXea based on the analysis of its work, statistics, and other factors
The price of this EA is appropriate to the quality which is proved by more than two years of the trading statistics which shows an impressive profit to drawdown ratio and haven't had long drawdowns or small drawdowns that haven't been recovered. The system has a number of backtests and a money-back guarantee which together with not that high price of 260$ makes me give it 5 out of 5 for this stat.
A mentioned before, the profitability to drawdown in this system is quite impressive so here it has the same 5 out of 5.
Statistics duration of this EA as mentioned is 25 months or more than two years which is more than enough to say that the system is reliable and profitable for a long-term trading choice. With that being said I give it a maximum of 5 out of 5 stars.
XFXea has got backtests made on 5 years long history quotes which is fine but it could have been longer to get the maximum mark, so here has 4 out of 5.
And my own feelings about this EA is quite similar to all the marks that have been given. I am absolutely confident that this EA will show itself highly profitable and reliable in the future. And for me, it is enough proves of the XFX's reliability already. So, I give it 5 out of 5.
At the moment of writing this review, the automated rating system of the ForexStore rated XFXea 9.5 points out of 10 which is very close to the marks that have been given in this review. This Forex trading system for sure deserves your attention.
I hope this review helps you, traders! I wish you profitable trading and luck on the market!
You may also be interested