FX Secret is private traders club
We are glad to welcome you in a private club of successful traders. To access the portfolio of our EA
Our company was established in 2012, and the development of Forex robots we started in 2009. A lot of experience in financial sphere has enabled us to create an entire portfolio of the best EAs. It will allow to smoothly diversify the risks and use the combination of trading systems, that is truly steady to any changes in the Market.
FX Secret combination
It is a combination of several of our EAs on one account. The main purpose of this combination is a superprofit, and it does a great job bringing 90% per month!
We trade only on real accounts and never use demo accounts. All results are confirmed by a third party, company Myfxbook.
Our company was established in 2012
Our professional work in the field of Forex started in 2009, and in 2012 we created our Forex software development company. Since then, we have created many qualitative and successful products. And above all, none of them had been closed. Join our luxury private community, and you will get access to our most advanced developments.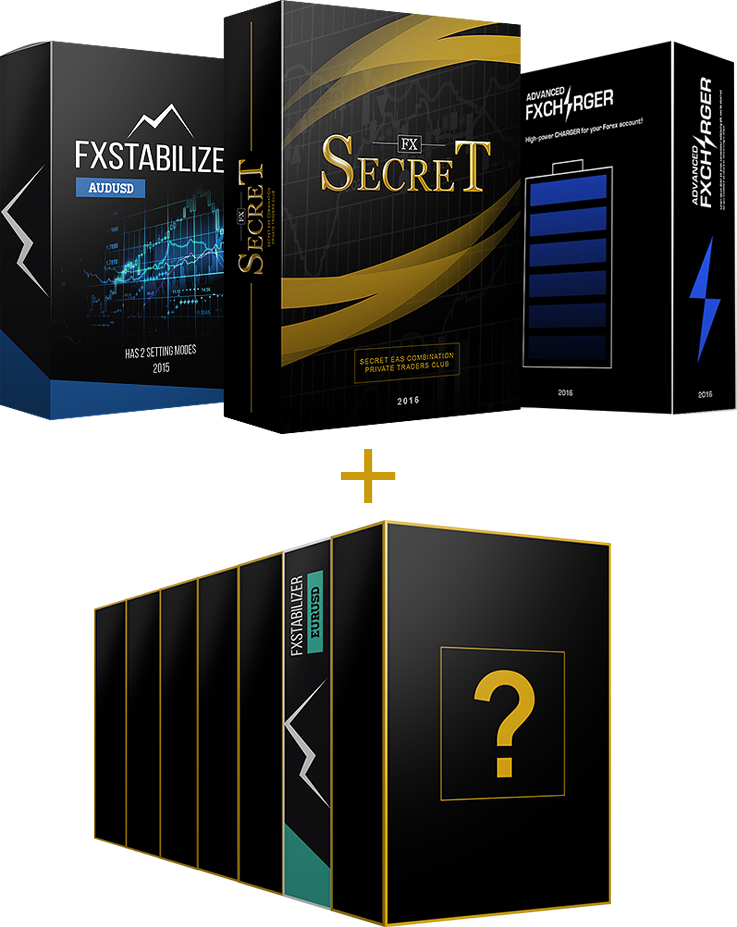 Get access to these EAs and our 6 other systems
With access to our community, you will get the presented EAs and other 6 unique systems. These secret systems are not inferior to profitability and reliability of the above EAs, and in some cases even better. We tried to make these secret robots in such a way, so that they would not disappoint you!
The success of all of our EAs
To prove the success of all 10 of our EAs (without revealing a secret what the EAs are) we have prepared the combined results of all the robots, using data from their trading on real accounts. We guarantee that all the EAs and the accounts are active and trading daily. None of them was stopped.

Purchase includes:
Lifetime license of each EA for a real account
Lifetime license of each EA for several demo accounts
Access to a private section of the web site with all the EAs
Detailed user manual of each EA
VIP support 24/7
BUSINESS PLAN:
FX-Secret combo
FXStabilizer AUDUSD
Plus one additional secret EA
PREMIUM PLAN:
FX Secret combo
FXStabilizer AUDUSD
FXStabilizer EURUSD
Plus 3 additional secret EAs
Professional help on creating your own portfolio
LUXURY PLAN:
Full BUSINESS and PREMIUM packages
All 10 of our systems
FXCharger Advanced is included
Exclusive partnership program
Get the access to a profitable portfolio and successful club today, so you can enjoy a stable income for the rest of your future!
Refund Policy
We provide a full money-back guarantee during 30 days. If our software doesn't perform as it should, you will get your money back. Also if a drawdown in the balance of your account is more than 50%, a refund will be initiated immediately, on condition that you use our recommended settings.
If any of the EAs that you received in FX Secret club were purchased by you earlier, we may partially refund the cost of the package.