We invented the ultimate 100% automated Forex Money Machine!
Get The First Self-Updating Real Money Trading Robot That Is Proven To Be Profitable In Every Market Condition
Information about FapTurbo 3.0
FapTurbo 3.0 not only will trade 8 currency pairs at high frequency but we explored new options when it comes to automated moneymaking and thanks to close relations with brokerages we were able to get exclusive trading streams to the world's most successful crypto-currency, Bitcoin.
We fired up FAP Turbo for a 10 year back-test
The results:
14,088 Total Trades
99.66% Winners
10,607% NET Profit
0.32% Drawdown!
But now the REAL challenge was about to take place....back-testing was OBVIOUSLY not enough. Yes, unbelievable results, but....as we all know...it's only backtested results. Because they DON'T work in live trading!
It Was Now Time To Fire Up "FAP Turbo"
A Forex Robot that in LIVE trading doubles ANY account like clockworks!
$500 Turning Into $1,100- In 2 Short Months
$2,500 Turning Into $8,700 - In 45 Days
$5,100 Turning Into $25,100 - In 30 Days
Hassle free trading: Fully Preinstalled on 2 Major Brokerages!
The best thing about FapTurbo 3.0 is that comes fully preinstalled on your MyFxChoice and Tallinex MT4! Plug and play solution. Real no brainer!
No more hassles with choosing brokers, optimal settings, wrong configurations and high spreads. We found out that most effective and most profitable way for our premium members is to trade on the FapTurbo™ 3 optimized feed from MyFxChoice and Tallinex. That is how you can maximize your results. Myfxchoice takes a small commission from your winning trades for providing you the service. So it's a WIN+WIN situation!
And the best part, we dont ask you to choose between two! You get BOTH! That's right! 1 License is valid for 2 live accounts! Each license owner gets 2 sublicenses to install 2 fully functional FapTurbo™ 3.0 copies.. that`s right double the bang for your buck! Those two legs allow you to cashing big right from the start without even having done a single trade!
The Power Of Fame
While developing FapTurbo™ 3.0 we did not only put our focus on profitable algorithms but on trading relationships as well.
That's why FapTurbo™ 3.0 features a DUAL LEG (tm) system.. the very first in the industry where you get double the benefits.. and what benefits those are !
Each license owner gets 2 sub-licenses to install 2 fully functional FapTurbo™ 3.0 copies.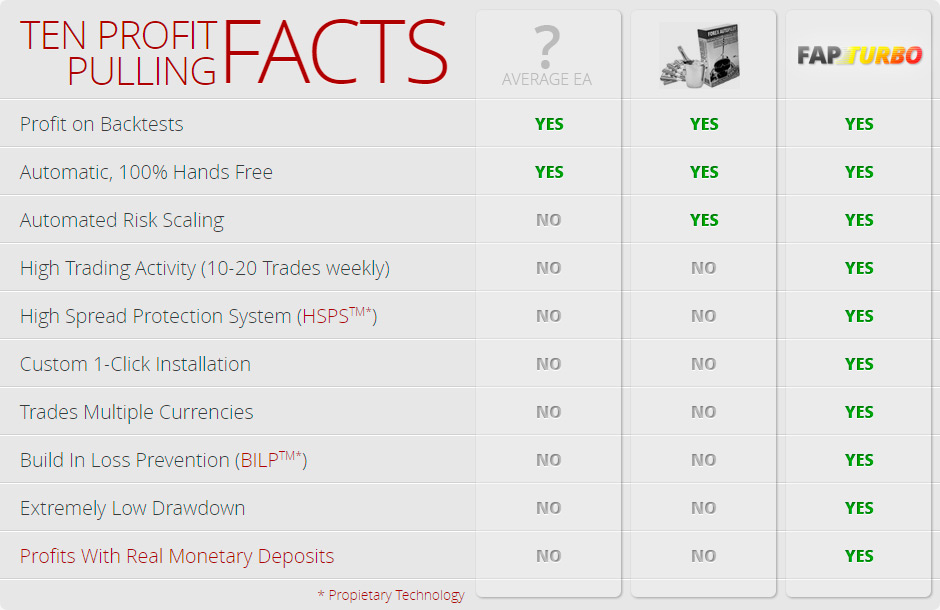 FAQ. FapTurbo3 settings and configuration
Can I adjust parameters of the FAPTURBO3 advisor?
Of course! You can change stop loss, take profit and several other parameters and filters depending specifically on your needs. All of them are described in the main FAPTURBO3 GUIDE.
What are the different strategies in FAPTv3.0 and which timeframes/pairs should I choose?
FAPTv3.0 Premium has 2 built-in strategies which can be switched on and off easily using UseMediumTermStrategy parameter in FAPTURBO3's settings. The Long-term strategy works only on EURUSD M1, while the Medium-Term Strategy (MTS) works on several pairs: EURGPB, EURCHF, GBPCHF, USDCHF, EURUSD, GBPUSD or USDCAD and on any Timeframe. As for BTC FAPT2 Premium (which runs on BITCOIN or BTC/USD only), it has two modes of operation: the MTS and Scalper mode. Read both our GUIDEs for more information.
Which strategy is the best one?
There is no clear answer to this question. Every strategy is a unique system of trading, and each has its own strong and weak points. We recommend running both systems at the same time. You know, diversification is the key to success!?
How to switch between Strategies?
In both FAPT2 robots, you can switch between strategies using the UseMediumTermStrategy parameter. True = Medium-Term strategy. False = Long-Term strategy (in BTC FAPT2, False switches to its Scalper mode)
Can I run 2 strategies on one account?
Yes you can. Attach FAPTURBO3 EA to the proper charts and set proper parameters for each strategy. Read the GUIDE and watch our video tutorials in "VIDEO TUTORIALS" section in the member area.
Warning: What are the most important parameters that I have to change?
In both strategies, you should set the proper Lot size. You do not have to worry about the GMT Offset while running the robot on a live feed, as long as UseAutoGMTOffset is set to true (which it is by default). And of course, the Authentication parameters, i.e., your Email address & CB receipt#. Please watch our video tutorials in "VIDEO TUTORIALS" section in the member area.
How to Set Proper Lot size?
Use Lots = 0.01 for every $200 of your account balance. For example, 0.1 lots for an account size of $2000. Or use Lots = 0.5-1.0 for deposits that are $10K and above. The numbers could vary depending on your broker rules! Please watch our video tutorials in "VIDEO TUTORIALS" section in the member area.
What is GMT OFFSET Parameter?
GMT OFFSET is a very important parameter, especially for the Medium-Term strategy. It defines the offset in hours between GMT and your broker time (market watch in MT4). FAPTURBO3 has an automated GMT offset feature, but when backtesting, the Manual GMT Offset should be set carefully in order to let FAPTURBO3 run properly. If you fail to set the GMT offset carefully, you will see unexpected losses on your backtests. Ask your broker about their GMT Offset if you are not sure! Please watch our video tutorials in "VIDEO TUTORIALS" section in the member area.
What does Magic number mean in the expert advisor?
Magic number is the unique ID number of each advisor to help the system understand which advisor is making a trade if you attach several advisors at the same time.
My Market Watch is Frozen! How to set GMT Offset?
Please note if your Market Watch is frozen that means that your broker is on the weekend holiday and that broker time is not valid. You should wait for a day or two until the weekend is over, after which the broker and markets will resume trading!
How to change the parameters after I attached the EA to the chart?
Right click on the smiling face and select "Expert Advisors -> Properties" or press F7. Double click on parameters in INPUTS Tab to change them!
What is a Stealth Mode?
Stealth Mode protects you from cheating on the broker side. Using Stealth Mode, the take profit and stop loss values are not displayed to the broker.
Purchase includes:
No description
Refund policy
If for ANY reason at all you feel FAP Turbo is not for you, just send us your trading screenshots (or call us…there is a support hotline available to clients) within the first 60 days after purchase for a complete no questions asked refund.